How to choose the customized silicone bib material?
Dongguan XHF, custom,produce, OEM&ODM silicone products for mother and baby, such as Silicone bib——safe and quality with the rest assured, with you to care for health!
Silicone baby bib is also called silicone bib pocket, silicone bib, made of food grade silicone, according to the characteristics of the baby, the design is exquisite, attractive, suitable for infants or the elderly.

The characteristics of Silicone baby bib : safety, convenience, health
Product material is 100% new imported food grade siliconeproduction, non-toxic and safe, can rest assured to use! Soft and non-toxic food-grade silicone material, suitable for skin contact.

According to the baby's own characteristics, the design is exquisite and attractive.

Generous and beautiful, durable and easy to wash, Repeatable use, easy to clean, just light wipe can restore clean.

Unique silicone ribbon design with a bib shape at the bottom to catch falling food. Avoid to wet the baby's clothes when eating, convenient and practical.

Our silicone baby bib is soft material, can be rolled up collection, easy to carry. Soft and folding, do not take up space portable, after small do not leave traces, not deformation, a roll easy to receive travel. Making the meal time full of joy, is the ideal meal bib.

Natural and harmless, non-toxic, tasteless and non-corrosiveness , environmental protection, can be tested by food grade SGS, FDA, LFGB, etc.

By high temperature and high pressure manufacturing molding, bright color, non-toxic, tasteless, acid and alkali corrosion resistance, suitable for dishwasher and disinfection cabinet, microwave oven, oven oven.

The product heat conduction is slow, not hot, smooth edge, delicate and comfortable feel and easy to clean (water cleaning, permanent protection of bright appearance as new).

Various styles, different shapes, product patterns bright, beautiful and generous, more close to nature and life, is environmentally friendly and practical tableware. There are a variety of styles for choose, can be customized according to customer needs.

Tips for buying silicone bibs
Size points: the appropriate size of the neckline is too small, easy to jam the neck, causing uncomfortable dining experience for the baby; the neckline is too large, and the collar will cause stains, anti-pollution effect discount;
Multiple use: Most bibs can be used multiple times. Cotton bibs are easy to breed bacteria, cleaning is inconvenient, need to be phased replacement. Silicone gel and polyester fibers will have a longer service life;
Key points:choose the belt / buckle / Velcro and other adjustable design leakage tank size is appropriate;
Waterproof and dirty resistant and convenient cleaning: an important reason for using bibs is that bibs can avoid stains on clothes, and bibs are more convenient to clean, reduce the pressure of mother washing clothes. Therefore, whether the bib is convenient to clean, is an important factor to consider when choosing, and want to be convenient and fast, it is recommended to choose the silicone bib;
Lovely shape:cute shape, bright color bib can attract the baby's attention. Mothers can choose colorful, cute bibs, babies are more like, they will be more acceptable to wear bibs and eat more easily.

To use the silicone mouth pocket
Before use, need to be disinfected, can be boiled in boiling water disinfection, pay attention to not get to the edge of the pot, so as not to damage to the product.

For microwave oven disinfection, please use a special microwave oven disinfection box; do not disinfect directly on the cooking oven or microwave oven.

Unclip the silicone baby bibsling, stick the bag mouth up to the chest, and then tie the sling on it.
Cleaning method of the silicone baby bib
Clean the silicone baby bibwith cleaning liquid before use, wash it thoroughly with warm water, and then disinfect with boiling water or steam sterilizer.

It should be thoroughly cleaned before and after each use to ensure hygiene.

Do not clean with corrosive chemicals.
The preservation method of the silicone baby bib
When not in use, it should be stored in a ventilated and cool place to avoid direct sunlight for a long time.
Do not place the silicone baby bib near the fire source and where the insect touches it.

Matters need attention
Please check the silicone bib pocket If there is any damage, please discard it in time.

Please let the baby use the bibs under the supervision.

Do not expose thesilicone bib to sunlight, fire source or liquid for a long time.
Customers provide design draft, we confirm proofing drawing file OK, customer pay proofing fee, we arrange proofing and send samples on the prescribed date the customer confirmation sample OK, signed bulk production contract, the customer pay the loan deposit, we arrange production bulk, bulk OK (photo or send bulk sample customer confirmation or customer inspection), customers pay the balance, we arrange delivery;
About the silicone products and mold quotation, please consult the customer service first, or in the silicone open mold customization place to understand.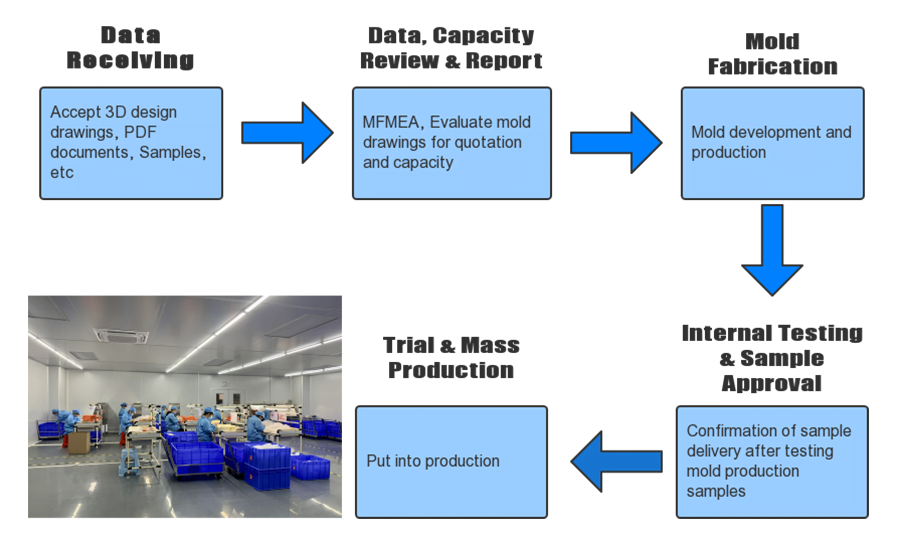 If you want to know more about customized silicone baby products information, welcome to visit on the company website to inquire: www.xhfsilicon.com ! Or call us consultation (wsapp +86 13630163732), we will reply to you in time.
Customers who want to develop custom silicone products are welcome to contact us at :
[email protected]/[email protected]