Why Silicone Children's Products Are Popular!
Silicone baby products have become the main daily necessities for modern children. At present, soft silicone materials are basically used in children's products in western countries, and silicone has become the most common material for children. Because it has too many excellent characteristics and advantages, it can be replaced. Other children's products, first of all, have reached the food grade in terms of materials, and children's skin contact will not cause discomfort, soft materials will not hurt the skin at all, and can be used as molars to prevent falling and other functions. Different appearances can be customized Colors and a variety of patterns, babies and young children can fall in love with it at a glance!     

 Judging from the current trend, the silicone baby products in the current market are gradually covering every family. In the future, the items accompanying each child's growth will also include silicone materials, so it is very important to choose the quality of the product, but if you want to choose a High-quality and exquisite silicone children's gifts naturally need to understand the processing principle and product ingredients of the product, so we will let you have a deeper understanding of children's silicone products.
   First of all, the material of silicone products is called the national environmental protection standard certification material in daily necessities, so the products produced by the material will certainly have more influence than other plastic products, and the same is true for the production and customization of silicone products, production methods, mixing, The three processes of vulcanization molding and secondary vulcanization are the most important and the key to ensuring quality and quality. The main component of its raw material is silicon dioxide (it does not have a chemical reaction with any substance and has conflicted) mixed with white carbon black, silicone oil, and Silicone substance! Not only that, we XHF will have multiple dust-free workshops to conduct quality inspections on baby products to more comprehensively guarantee the quality of the products.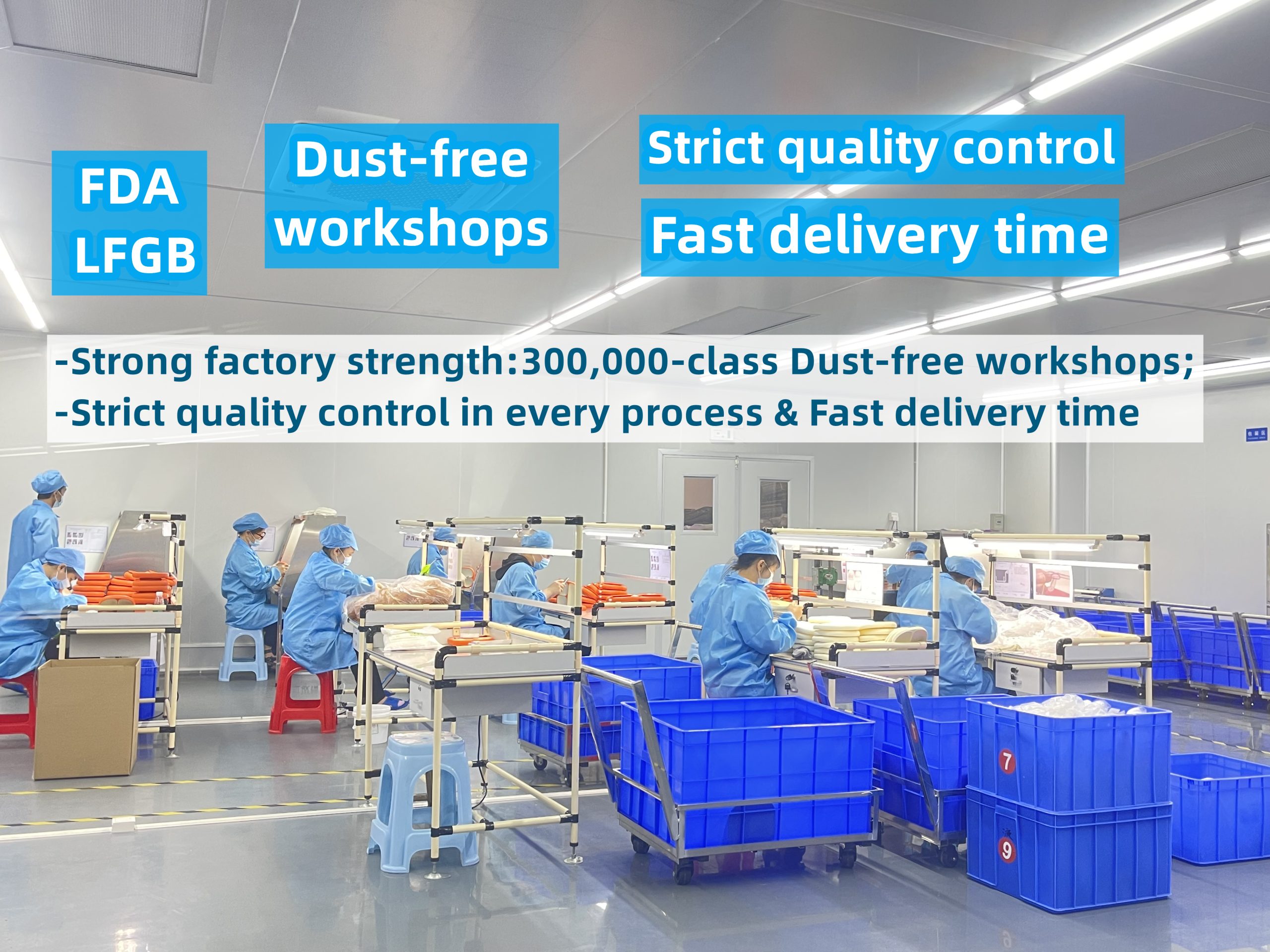 Because silicone does not react with any substance or liquid, it guarantees excellent stability and safety performance. Due to its good stability, the product also shows its characteristics, such as high and low temperature resistance, and silicone tableware products can be sterilized and cleaned at high temperatures. Put it in the refrigerator to refrigerate, soft and comfortable, the product has good resilience and toughness, can be used for a long time without deformation, it is easy to clean after bending back and forth, it is environmentally friendly and non-toxic, and the variety of colors and shapes and patterns is more attractive to children eyeballs!
   The production process of silicone children's products is special. For high temperature and long-term use at room temperature, there will be no aging and shortening of life. The most important thing in the production and processing of silicone children's products is to control the appearance of the product and keep the interior of the product clean. Black spots and impurities should not have burrs. On the other hand, it is to control the softness and rebound strength of the product, and use reasonable machine remark conditions to prevent the product from becoming soft and brittle!
   Custom processing of silicone baby products In addition to dealing with the above problems, raw materials are the key issue. Generally, ordinary silicone can also be used as food-grade silicone products, and the main reason for choosing food-grade silicone is because of the performance of the product and whether the effect of later use can be achieved, such as Odor problems caused by different silicone materials, stretching and rebound effects after product molding, etc.!

 There are also a few points to pay attention to when purchasing silicone baby products:
Material safety:
For children, safety must be the most important. Compared with hard rubber and other plastics, the advantage of silicone products is that soft materials are safer and make children safer. Silicone materials are generally made of environmentally friendly polymers. Silicone raw materials are customized, and the children's silicone toys made are non-toxic, tasteless, and non-irritating to the skin. The color is full and generally there will be no phenomenon of mixed colors, multi-colors, and different colors! Long-term use does not cause any reaction conflicts and does not change, so be careful after buying!
Product usability:
Practicality is very important, it is beneficial to children's intelligence development, brain and eye improvement, so in addition to the structure of the design, the function of the product configuration, the color selected and the effect of use are all related to whether children's products are popular! For example, soft Whether the level is suitable for children of the current age, the shape of the product such as cartoon animals, multi-color elements, etc.! Functional products with reasonable hardness are also very important, such as silicone teethers, silicone spoons, silicone forks, etc.!
  If you would like to order high quality silicone baby products, contact us please!

About XHF Silicone :
18+ years of experience in CNC mold making and custom molded silicone products.
R&D Support (Custom products design, 3D files)
CNC tool mold design and process (Programming, mold making)
Silicone Molding Production (High Volume Production, Quality Control)
If you want to develop custom silicone products, welcome to contact us at :
www.xhfsilicon.com
[email protected]