Tell those Truth of Custom Silicone Products Factory
Key words: custom silicone product,silicone products, silicone parts, silicone rubber, custom factory
The Silicone products manufacturing industry is constantly innovating and is in a critical period of transformation and upgrading. The innovation of the silicone products industry will be an incentive competition. Manufacturers with design innovation and independent research and development and production will attract a huge market. Just as our custom factory keeps pace with the market, development and expansion.

Dongguan XinHongFa Silicone Manufacturing Co., LTD., have more than 18 years experience and focus on all kinds of silicone products customization, mold manufacturing and on-demand production.
We provide one-stop customization and production for all kinds of silicone products to satisfy your custom requirements.
Reasons for Choosing XHF OEM&ODM Silicone Products
XHF has been specializing in silicone products for 19 years, and our professional foreign trade team is committed to providing you with a satisfactory customized service.
You only need to provide samples and drawings; we provide you with one-stop OEM&ODM service (solution, manufacturing, testing, mass production).
Environmental Certification
XHF has passed ROHS, REACH, FDA, and LFGB certifications,etc.
Quality Assurance

XHF has the whole 300,000-class dust-free workshop and environmental protection system all over the factory;

More than 30 sets of molding machines, injection machines and plastic injection machines;

More than 20 sets of supporting machines (air compressor, punching machine, CNC secondary curing oven, tunnel oven, printing machine);
We conduct multiple layers of strict quality checks before delivery to ensure our quality products.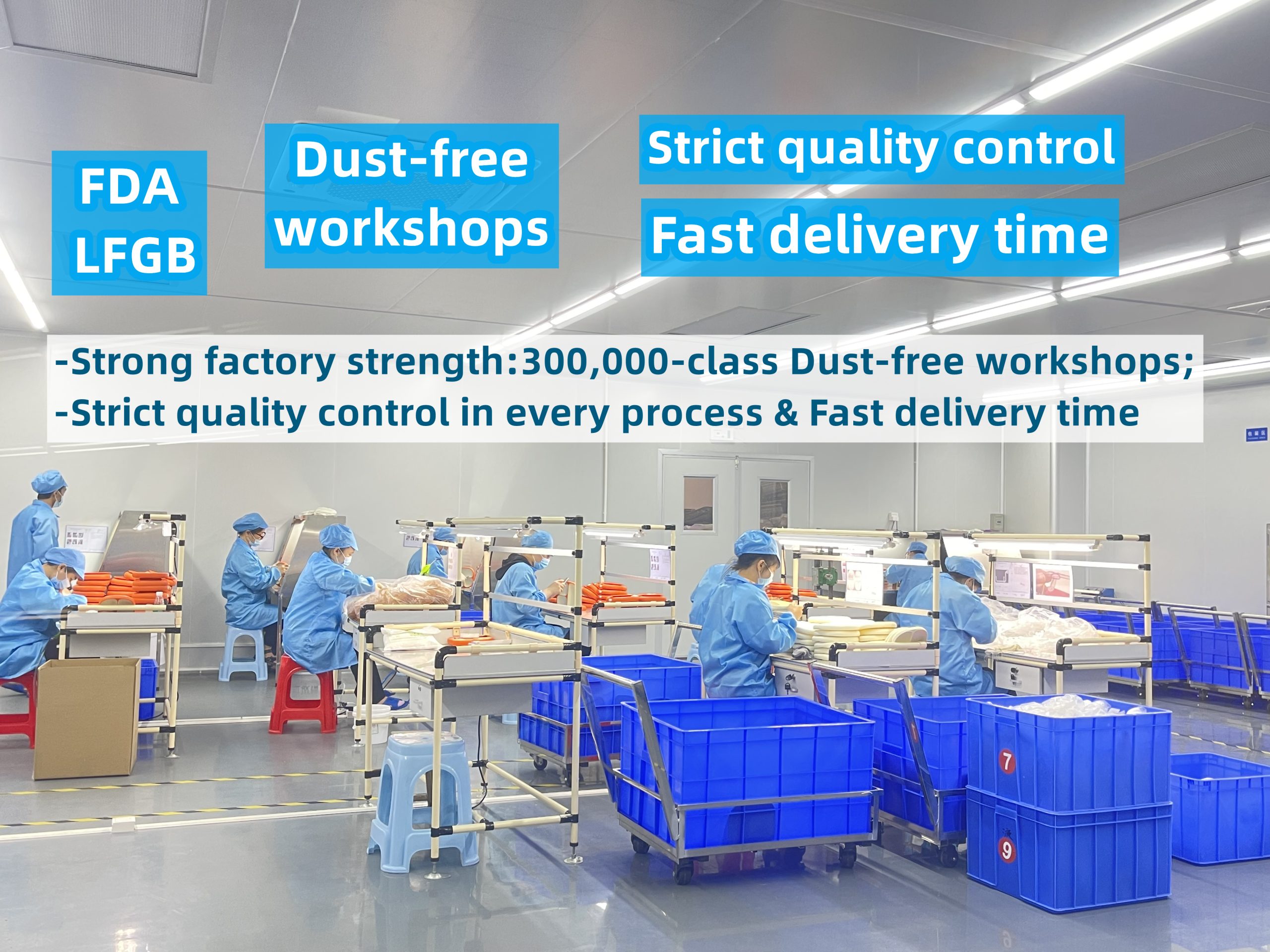 Quality assurance   Trustworthy   Sincere service
Main application areas of silicone parts:
Silicone baby products series: including silicone spoon, silicone bowl, silicone plate, silicone pacifier, silicone bottle, silicone bib, etc.

For medical use, silicone breathing throat mask, catheter, etc.

silicone colorless, tasteless and toxic properties are widely used in medical areas

Outdoor activity series: including folding water cups,  collapsible water bottles, collapsible cooking pot,sports bracelets, sports watches, silicone shoe covers, etc

Kitchenware series: including heat insulation mat, anti-slip cup mat, silicone vegetable basket,silicone spatula, silicone cooking cover, cake mold,silicone seasoning bowl, etc.

Household series: including silicone tea set, silicone bath brush, silicone brush, silicone key chain, dinner mat, etc.

For automotive electronic parts, silicone gaskets, seals, other miscellaneous parts.

Special Silicone seals and structures used by aviation, military accessories

.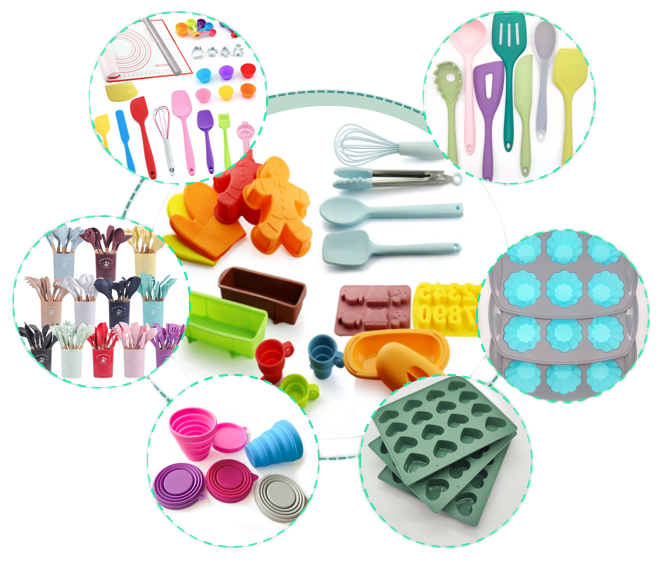 The Features of Silicone Parts :

High temperature resistance: applicable temperature range -40 to 230 ℃, can be used in the microwave oven and oven.

Easy to clean: silicone productscan be washed in clean water to restore clean, can also be cleaned in the dishwasher.
Durability: the chemical performance of silicone materialis very stable, and its products made have a longer life than other materials.
Soft & Comfortable: Thanks to the softness of silicone material, silicone products feel comfortable, flexible, no deformation, such as silicone cake mold, silicone chocolate mold.

Various colors: different colors can be mixed according to the needs of customers.

Environmental protection & non-toxic: from the silicone rubber raw materials into the factory to the shipment of finished silicone products do not produce any toxic and harmful substances.
Electrical insulation performance: silicone rubberhas a very high resistivity, and its resistance value can still remain stable in a very wide temperature range and frequency range.
About customization
The production process of the mold:
The Customer provide the specific design drawingsor samples, detailed product information (structure, use, size, material requirements, process requirements, etc;

The company decides to place an order for mold production;

Moldpersonnel began to program;

The mold departmentmakes the mold according to the program, until the mold production is finished. After the mold is made, the customer product proofing.
Product proofing will often determine a lot of details, such as product raw materials, product color, processing,description, pattern,etc. After these are confirmed correctly, it is possible to initially make the first batch of silicone products that satisfy customers.
After the silicone product proofing is completed, we will confirm that it meets the requirements, and then take or send the first batch of samples to the customer. After the customer evaluates and confirms the product, we will start to make the goods in batches according to the samples.
If the sample does not meet the requirements, then after receiving the feedback from the customer, the factory will make relevant improvements according to the customer's opinion until the sample satisfies the customer before the mass production.
In general, different silicone products, the structure of the mold is different, the difficulty of the production will be different.
 However, it is important that whether in that production process, we will always follow every process of silicone products and strive to deliver the earliest goods for our customers.


Custom-made various types of silicone kitchenware, baking tools,products,etc
The silicone material to silicone products is more environmental friendly and safe, with better stability, both in non-standard mold manufacturing and mass production.
In the comprehensive supporting aspects of product manufacturing, we can provide perfect technical solutions and satisfactory products according to the different needs of customers,the most important, to consider the cost for you!